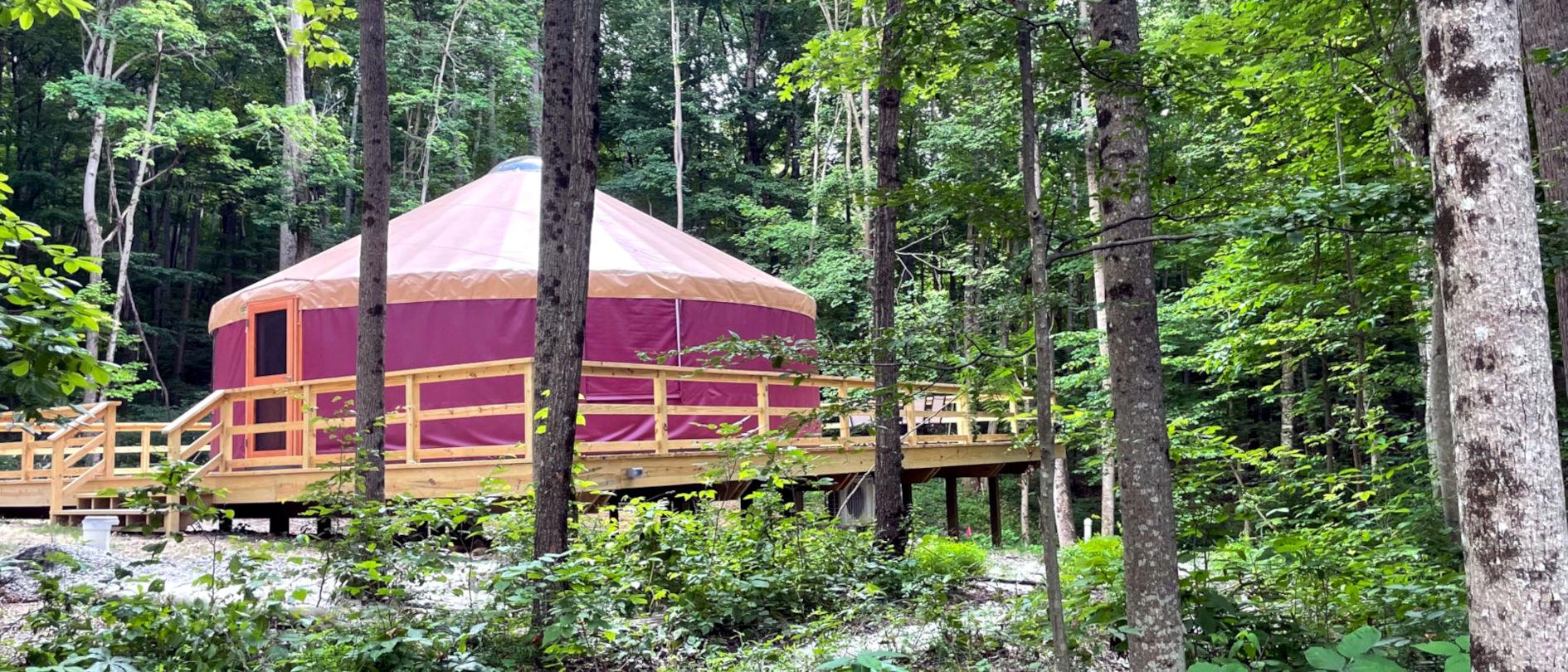 Arbor Ridge Yurt
Arbor Ridge Yurt is a hidden gem! This restful space is the perfect place to build lasting memories with you and your guests. Delight in this distinctive experience where nature enchants you with her beauty while surrounded in comfortable luxury that this modern property exhibits. Arbor Ridge brings the outdoors inside with breath taking sunlight by day and starlight by night. Glampers and traditional nature lovers will savor in the cozy comforts that is a perfect place to commune in nature.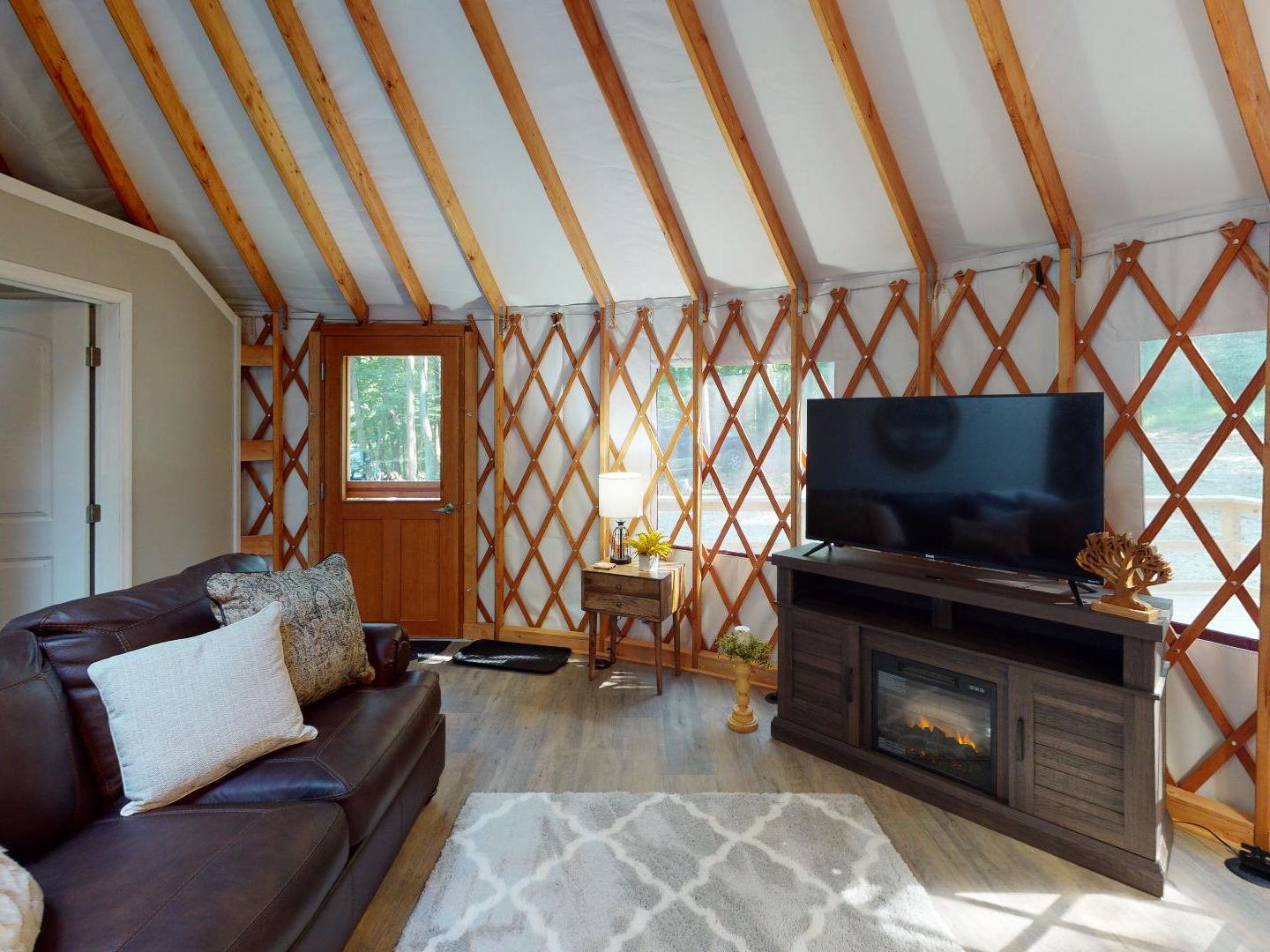 Arbor Ridge Yurt Hocking Hills
This yurt is a two bedroom with soaring ceilings (16 feet at its center point) Arbor Ridge is a 30 ft. yurt over 700 square feet of space that guests can escape from the demands and stress of everyday life. By design, Arbor Ridge wraps you and your guests in the wooded majesty that Hocking Hills is known for.
Arbor Ridge Yurt is a pleasure in all seasons. Cozy up on a 45x45 foot elevated deck featuring the splendor that Hocking Hills, offers you and your guests. Unique terrain, wildlife and scenic views that will entice you to enjoy a warm fire, grill a dinner or relax in the private hot tub where the sights quiet your soul.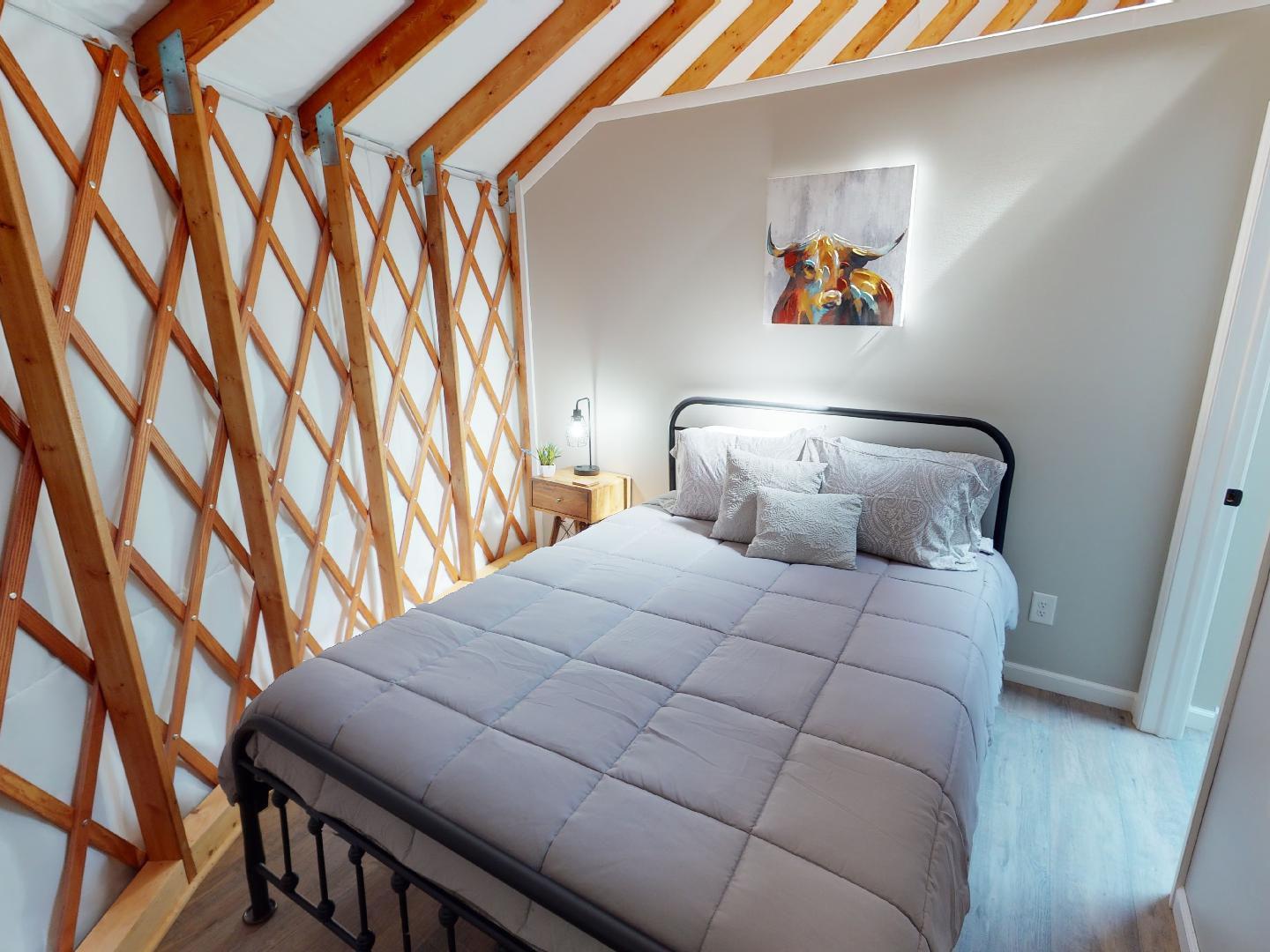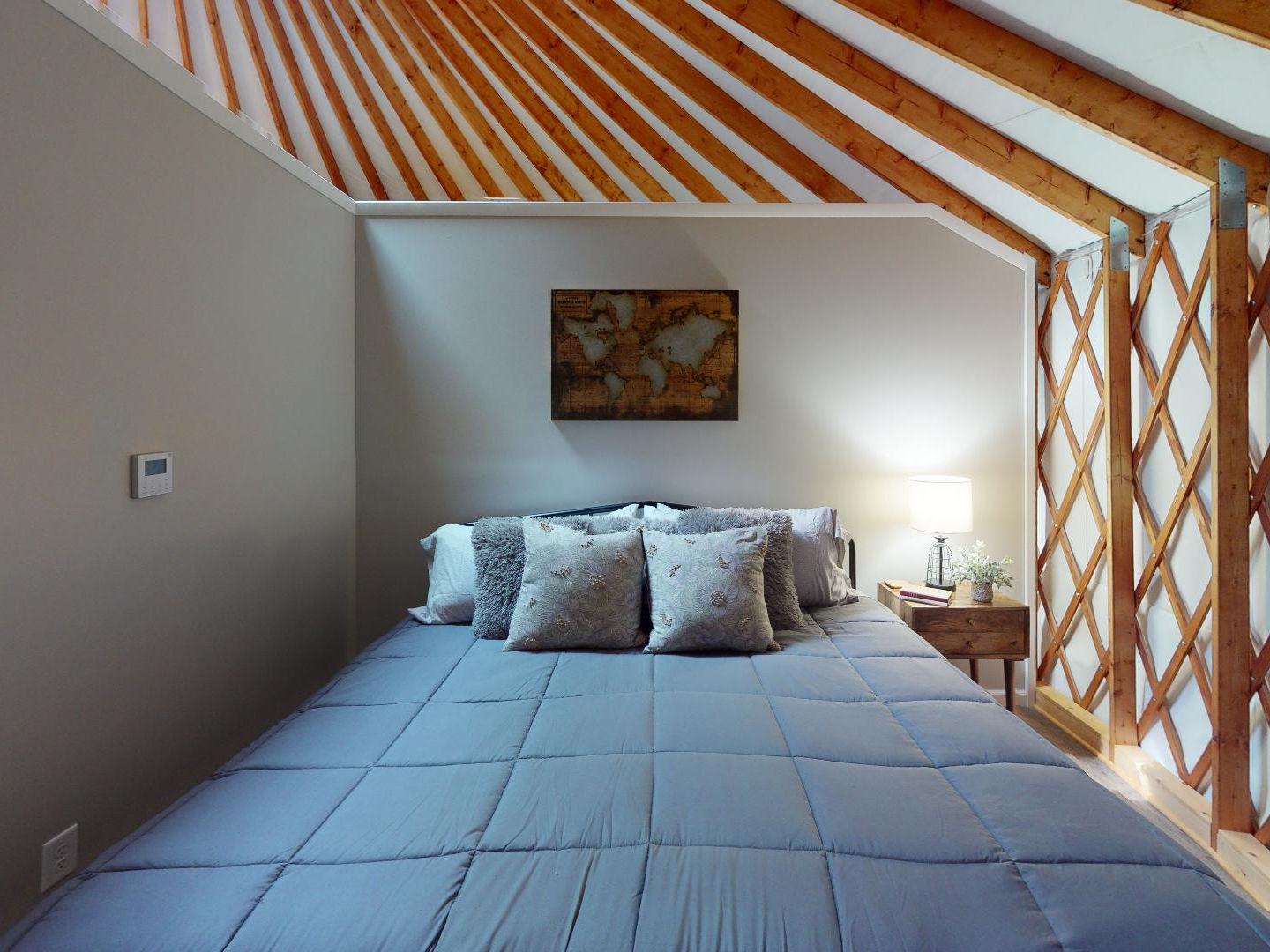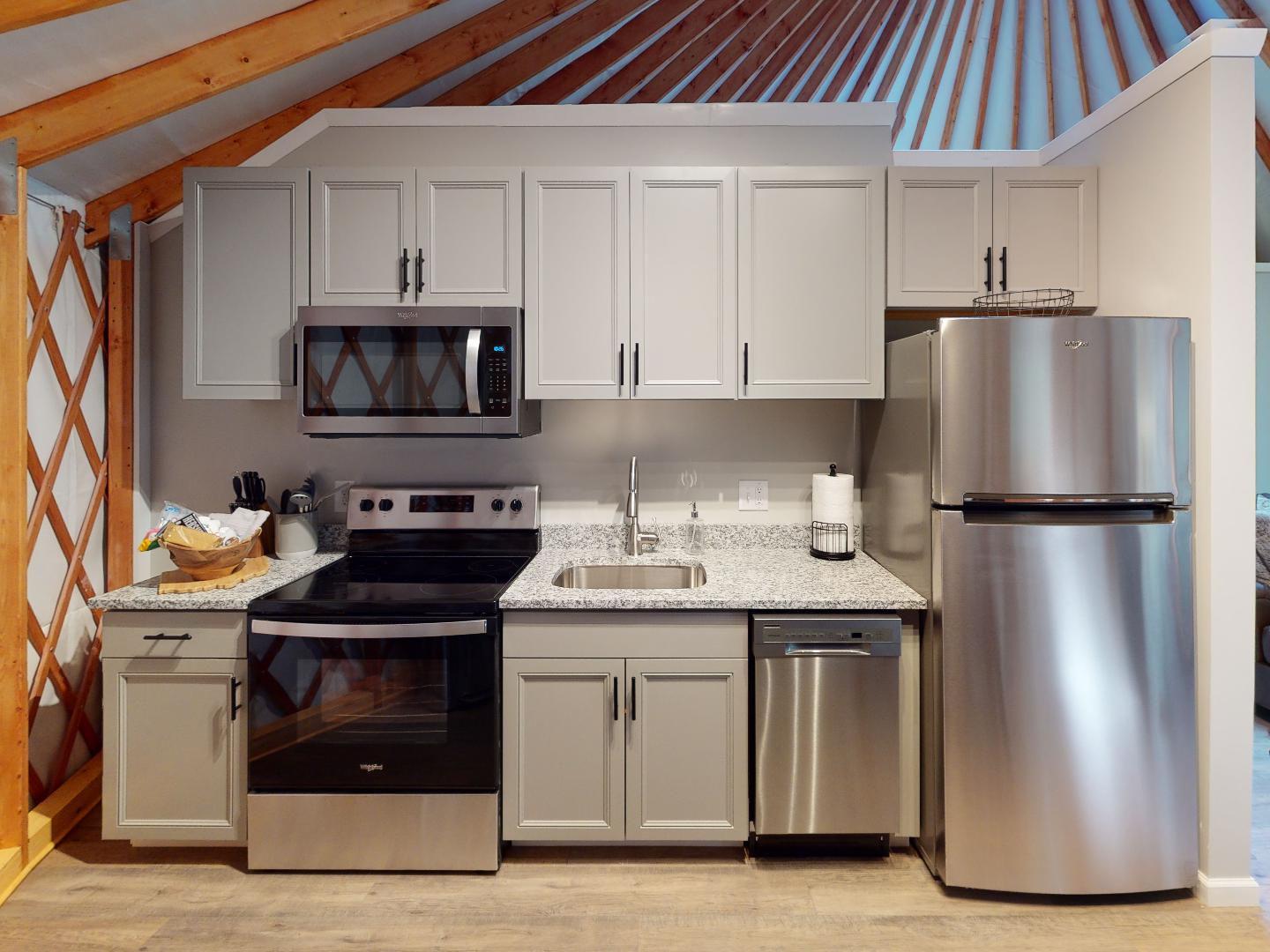 This modern masterpiece boasts all the comforts of home. With a state-of-the-art kitchen, all new appliances, granite countertops, comfortable furniture, fireplace, large screen tv your guests will be spoiled with convenience and prospects for making forever memories. Wonder is what you will discover when you stay in Arbor Ridge, the design promotes good will for you and your guests while hosting spectacular views that will be unforgettable.
Amenities
Sleeps six
2 Bedrooms (1 King, 1 Queen plus a pull-out queen sleeper)
Linens Provided
45 x45 foot elevated deck
Large Screen TV with Streaming services
Electric Fireplace
Central Air Conditioning/ Heat
Wi-Fi access
Fire Pit – Firewood provided
Hot Tub
Gas Grill
Off Season
Nov 16 - Mar 14
Base Occupancy: 2 - 6 guests
Extra Guests: $25 per guest
Holiday Pricing: 3 days minimum booking at our in-season weekend pricing (applicable to Memorial Day, Independence Day, Labor Day, Thanksgiving, Christmas, & New Year's Eve/Day)